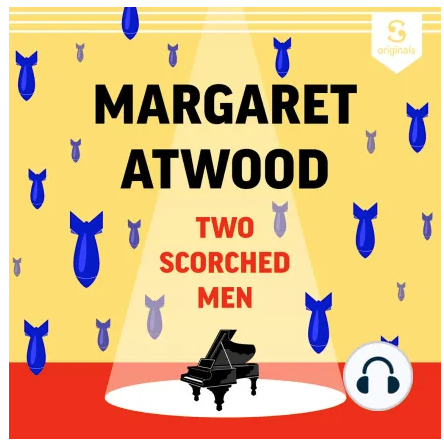 I am so thrilled to be the narrator for the Scribd original Two Scorched Men by Margaret Atwood!
To quote from Scribd:
"Margaret Atwood needs little introduction. If you don't know her from her fifty-plus books and many awards and bestsellers, including her MaddAddam Trilogy, Alias Grace, and especially The Handmaid's Tale, you'll know her from that visionary and canonical novel's adaptation into the Emmy-winning Hulu television series. At eighty-one, Atwood is more current and influential than ever, and with more than two million followers on Twitter, she's achieved a kind of cool generally reserved for rock stars. (Bob Dylan's got nothing on her.)
In her Scribd Original story Two Scorched Men, Atwood takes a personal turn and returns to characters and places drawn from her own life. Her unnamed narrator pays tribute in fictional form to two men Atwood knew during the years she and her partner, Graeme Gibson, spent in Provence: John, a hotheaded Irishman who served in the Royal Navy during World War II and barely survived the deadly battles in the South Pacific; and François, a wry and affable Frenchman, who was once an operative in the French Resistance and led a life shaped by tragedy. As Atwood writes here, both men knew 'I would someday relate their lives for them. Why did they want this? Why does anyone? We resist the notion that we'll become mere handfuls of dust, so we wish to become words instead. Breath in the mouths of others.'"
Pop on over to Scribd and check it out!